Injection Pump Test Bench 12PSB
12PSB series fuel injection pump test bench adopts advanced frequency conversion speed regulation technology, which has the characteristics of high reliability, low noise, low energy consumption, large output torque, high test precision, full protection performance and convenient operation. It is one of the best selling models for current diesel injector test bench.
Features
1. Frequency conversion speed control motor: digital controller accurate control of 10 gear speed.
2. Can test the fuel supply of each cylinder at different speed, can check the fuel supply time of each cylinder statically. Accurate and fast.
3. The performance of mechanical governor and pneumatic governor can be detected.
4. It can realize the testing of distribution pump solenoid valve, return oil quantity, air pressure in pump and so on.
5. The performance of pressure compensator can be detected.
6. Can realize the gas film governor negative pressure, performance detection.
Specifications
◉Main motor power: 7.5/11/15/18.5/22kW
◉No. test cylinders: 2006/8/12
◉Power supply standard: 220/380/415V,50/60Hz
◉Fuel pressure under high pressure: 0-40Bar
◉Fuel pressure under low pressure: 0-4Bar
◉Efficiency of fuel pump: 10L/min
◉Volume of fuel tank: 60L
◉Range of testing setting: 0-9999
◉Height of drive axis: 125mm
◉Drive coupling diameter: 120mm
◉Range of control temperature: 40±2°C
◉Pressure gauge range-High pressure: 0-6Bar
◉Pressure gauge range-Low pressure: 0-6Bar
◉Internal pressure: 0-16Bar
◉Negative pressure meter: -0.1-0Bar
◉Pressurization pump pressure gauge: 0-1.6Bar
◉Machine size: 2150*930*1670mm
◉Machine weight: 780/880KG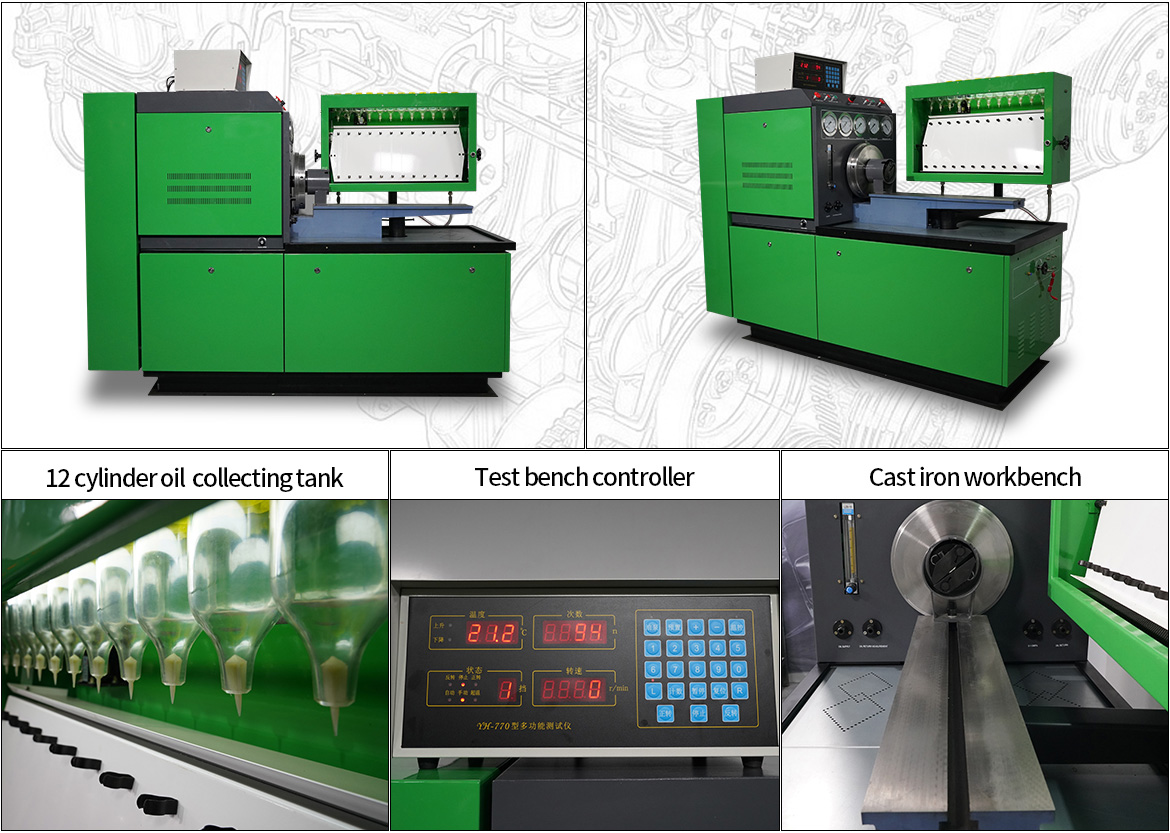 Injection Pump Test Bench
◉Optional 4, 6, 8 or 12-cylinder philatelic box
◉Digital control frequency conversion speed regulation, 10 gear speed
◉Optional digital display or computer control
◉Low noise, low energy consumption, high output torque and high test precision
Learn More