Why crystal common rail test bench is the best
03 Aug 2020
CRYSTAL brand diesel test bench is a special equipment for testing BOSCH/DENSO/DELPHI/SIEMENS and other brands of electronically controlled fuel injectors and high-voltage electronically controlled common rail pumps. The equipment adopts industrial computer real-time control, embedded Windows operating system, touch screen operation, the control of the injector solenoid valve is more precise and stable.
Why is Crystal's common rail test bench the best? When consumers buy a product, the quality of the product itself is only a factor, as well as the security of the payment, whether it can be shipped in time, and whether it can provide technical guidance in time if the equipment fails. It is a test of a company's products.
Take HCR-708 as an example. The appearance design, structure design and product function of this model are all designed by our company and independently developed; the component brands are selected in accordance with the high requirements of export levels to ensure the service life of the equipment. This equipment can test common rail injectors, common rail pumps, EUI and EUP. The test of the electronically controlled common rail injector is equipped with a universal clamping fixture, which has strong versatility, convenient use, fast clamping and reliable. The test of EUI and EUP is equipped with a cam box, which can conveniently and quickly test the electronically controlled unit pump and the electronically controlled pump nozzle. The structure is compact and the test is simple. Of course, the above product functions are only his standard functions. If you have any special requirements or need special customization, we can meet your requirements. This is also the responsibility of an excellent manufacturer.
If you are planning to purchase test bench equipment in China, don't just pay attention to the price of the equipment, because many consumers don't understand this equipment and only pay attention to the price of the high pressure common rail test bench, and if you insist on pursuing lower prices, You may find a supplier that offers low prices, but how can the quality and service of the equipment be guaranteed? As a result, the quality of the equipment after purchase is not good, and it needs to be replaced after a short period of time, which is wasteful.
A customer from Sri Lanka purchased our HCR708 and just received our common rail test stand this month. When we just received the equipment, because we were not familiar with our equipment, we encountered some technical problems when we started to use it. We guided and answered all the questions he raised one by one. Now he is very satisfied with our products and thanked us for providing technical support in time. He will buy another one this year.
The continuous research and development of new common rail test bench products is also what our company's technical department has been doing. Only innovation can continuously meet the needs of customers and win the win-win situation of the company and customers.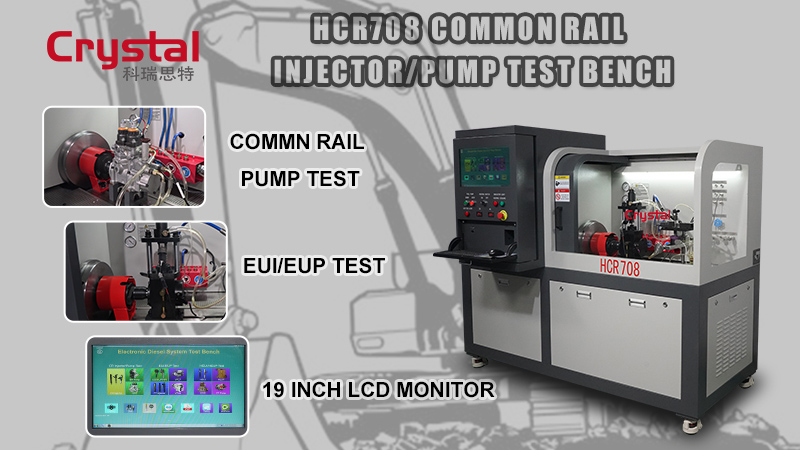 Keywords: common rail test bench
Originally published 03 Aug 2020, updated 03 Aug 2020.