What is the impact of high pressure common rail test bench on low carbon life
05 Jan 2022
At present, environmental issues are a major global issue, and how to save energy and reduce pollution emissions are the primary issue. The country now attaches great importance to environmental improvement, and has now entered into the rectification policy. The manufacturers of high-pressure common rail test benches also made timely self-improvements in order to understand the problems of modern society and the importance of environmental pollution.
In this case, is it better to use a diesel engine? What the editor said for everyone, let us see the benefits of the common rail test bench.
First of all, because the injection pressure of the common rail system is flexible, the best injection pressure can be determined according to different working conditions, thereby optimizing the overall performance of the diesel engine. The fuel injection controlled by the solenoid valve has high precision, and there is no air bubbles and residual pressure in the high-pressure oil circuit. Therefore, within the operating range of the diesel engine, the circulating fuel injection does not change much, and the fuel supply of each cylinder is uneven. In order to reduce the vibration of the diesel engine and reduce emissions.
The improvement of diesel engines has promoted the rapid development of diesel engines, further reduced fuel consumption, and reached the national emission standards, making the development of two birds with one stone what we most want to see. The combustion process of the engine is perfect, the speed is fast, and the combustion temperature is not significantly increased.
Our high-pressure common rail test bench bluntly said that our appearance has brought a lot of space for the development of traditional diesel engines. Actively respond to the call of the country and include environmental pollution as a policy. The emergence of new technologies has brought great convenience to our lives. We have also witnessed the changes of the times and technological innovation capabilities. We will contribute to improving the environment with more complete equipment.
As the originator of the test bench, Crystal has more than 20 years of experience and is dedicated to the development and design of the high-pressure common rail test bench. There are test benches for fuel injectors, pump test benches, multi-function test benches, etc. Of course, we can also customize special functions according to customer requirements, which greatly improves work efficiency and at the same time provides our customers with great convenience. Such as our Common rail test bench HCR-518 a product that can test common rail injectors, piezoelectric injectors and HEUI injectors as the same time. It is a product designed according to the special requirements of customers. If you also need those test bench, welcome to contact us.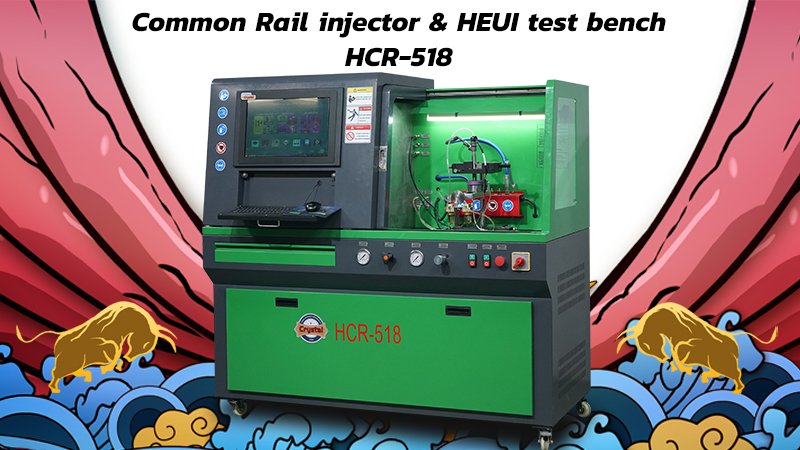 Keywords: common rail test bench
Originally published 05 Jan 2022, updated 05 Jan 2022.