How to choose a good common rail test bench
14 Dec 2021
Speaking of common rail test bench, I want to know what do you know about test bench? I believe that the people who know the common rail test bench best are the manufacturers and the companies that sell the test bench and the shops that test or repair the common rail pumps and fuel injectors. If you have some doubts about the common rail test bench, they will definitely give you the most professional answer.
Maybe you want to know, what's the best common rail test bench for your to choose. I will answer that will be Crystal common rail test bench. Now I will show you the characteristics of our common rail test bench HCR-708. HCR708 is high-pressure common rail electronic control system comprehensive test bench. It adopts fully automatic control system, can be very convenient for electronic control common rail injectors that also including piezoelectric common rail injectors, high-voltage electronic control common rail pumps, testing and maintenance of electronically controlled unit pumps, electronically controlled pump nozzles, etc. It can test thousands of models of electronically controlled fuel injectors and high-voltage electronically controlled common rail pumps, including BOSCH, DELPHI, DENSO, SIMENS, CATERPILLAR, CUMMINS (DONGKANG, FUKANG), etc. The test data is complete.
There are also many customers who are more concerned about their prices when choosing suppliers. In fact, price is not an important factor in judging the test bench, but the quality determines the price and service level. If you plan to buy test bench equipment in China, please remember not to only pay attention to the price of the equipment, because many consumers or middlemen don't understand this equipment and only pay attention to the price of the high-pressure common rail test bench. If you insist on pursuing the lowest price, you may find a low-priced common rail test bench supplier, but the quality and service of the equipment will definitely disappoint you. Can you think about how to guarantee the quality at such a low price? Have you considered whether the quality of the equipment's components can stand the test of time while considering lower prices? It has to be said that this will cause the quality of your purchased equipment to be poor, and it will not be able to perform normal work and operation. You need to replace damaged parts or even need to be repaired in a short time. This will not only waste your costs but also waste your time and energy, may even delay your normal work. Therefore, if you want to find a good equipment, it is not a wise choice to only focus on the price. You have to consider other factors such as the strength and service of the supplier and the quality of the device.
A customer Ahmed in Africa is interested in our HCR708 and he wants to test common rail injectors and pumps, he asked some questions about our common rail test bench. He said, "I'm very worried about the security of payment. Because this is the first time I have imported equipment from abroad." I told him, "I fully understand the customer's concerns." Then I provide a solution that we can make a video call to show the detailed operation and some accessories of our common rail test bench. Ahmed agreed, we discussed the time of the call together and we made the video call. After the video call, he was very satisfied with common rail test bench HCR708. In the end, he chose us and praised our pre-sale service.
If you want to know how and where you can get a good common rail test bench, please contact us. We will give you a detailed answer and provide you with the most suitable common rail test bench.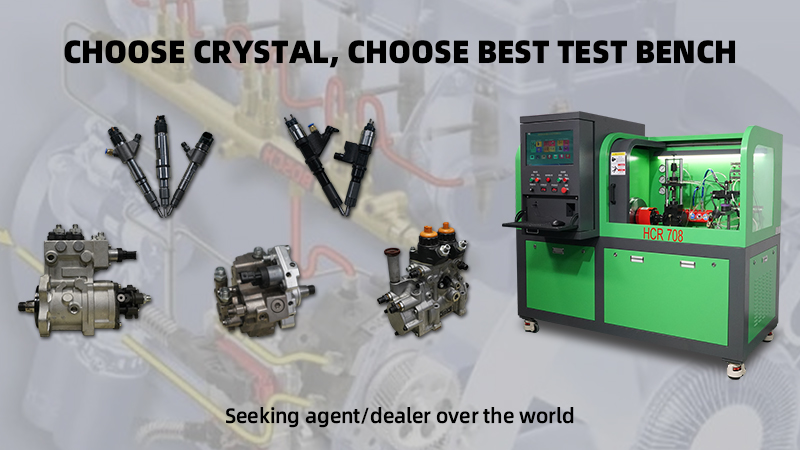 Keywords: common rail test bench
Originally published 14 Dec 2021, updated 14 Dec 2021.