Why do you need crystal common rail test bench
09 Oct 2020
At present, with the rapid development of industry, the demand for fuel injectors and other test benches in various countries is increasing. So you need to choose suitable common rail test bench for your shop.
In the daily use of vehicles, the frequency of damage to fuel injectors and fuel injection pumps is very high, which is almost inevitable. They may be caused by anything. People who really care about it will worry about it. Some may choose to replace a new injector or fuel injection pump because they think it is the only option. When the injector or fuel injection pump appears When there is a problem, it is a good choice to choose a suitable test bench for testing and maintenance. Therefore, the maintenance demand for these professional diesel injectors, fuel injection pumps, etc. is definitely on the rise.
Based on the above phenomenon, why do you need crystal common rail test bench?
As a comprehensive enterprise specializing in R&D, production, sales and service of internal combustion testing equipment, its leading products include high-pressure common rail test benches, diesel injection pump test benches, diesel fuel injector test benches, etc. The company and domestic universities, fuel injection pump research institutes, fuel injector repair stations and other technical development and service teams. The company has developed and produced a full range of high-pressure fuel injection system test benches to provide complete and accurate tests for current maintenance, market high pressure common rail, medium pressure common rail, single pump, pump nozzle, piezoelectric crystal and other electronically controlled diesel system products are widely used in automobile wheels, construction machinery, ship machinery, etc.Repair shops and injector manufacturers.
Crystal test bench Adopt fully automatic control system, it can be very convenient for electronic control common rail injectors (including piezoelectric common rail injectors), high-voltage electronic control common rail pumps, Testing and maintenance of electronically controlled unit pumps, electronically controlled pump nozzles, etc. It can test thousands of models of electronically controlled fuel injectors and high-voltage electronically controlled common rail pumps, including BOSCH, DELPHI, DENSO, SIMENS, CATERPILLAR, CUMMINS (DONGKANG, FUKANG), etc. The test data is complete.
When I was communicating with Bulgaria, what customers mentioned most was that the crystal product quality and after-sales service were perfect. This may be one of the reasons why other customers choose our common rail test bench and insist on long-term cooperation. Crystal will continue to innovate and continue to provide first-class products to better meet market needs Common rail system testing equipment creates more value for customers and wins together with customers!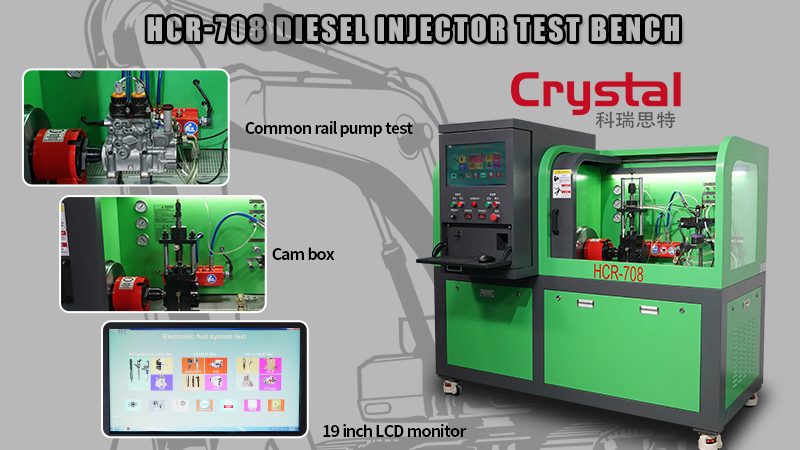 Keywords: common rail test bench
Originally published 09 Oct 2020, updated 09 Oct 2020.