What kind of common rail test bench is suitable for you
06 Aug 2021
Are you looking for a new common rail test bench? Do you want to test and repair common rail injectors? Is your test bench does not enough test plans? There are many diesel test bench brands, so you can't decide which one do you need.
So how to choose the suitable common rail test bench?
The precision and the matched components , diesel is injected and combusted in cylinder, the requirements for the amount of fuel sprayed injected is very high, but because of the oil temperature, oil pressure, response time, pulse width, the density of the fuel, combustion values, lubricity, fluidity, etc,they have influence on the amount of the injection oil.So in terms of oil pressure stability and the oil temperature stability , the requirement for equipment is also very high. There are many aspects that affect the stability of oil pressure, such as common rail pump, common rail pipe, filter, pressure regulating valve and other important components.So the matched components with good quality is very important for equipment to reach the testing standard,they decide the reliability of equipment.
Next, you can make a reference to one of our models.
HCR-318 high pressure common rail electronic control injector test bench:
Adopts a fully automatic control system, which can easily test the electronic control common rail injectors (including piezoelectric common rail injectors) . It Can test including Bosch, Delphi, Denso, Siemens, Caterpillar, Cummins (Dongkang, Fukang) and other thousands of types of electronic control injectors, the test data is complete.
The functions of HCR-318 are very complete, let's briefly introduce the functions of the machine so that you can have a deeper understanding of this model.
It can automatically generate fuel quantity correction codes for electronically controlled common rail injectors: QR, IQA, IMA, ISA, c2i, c3i, (VD0) ICC.
It can manually edit the injection characteristics of the injector to be tested.
The test process can be selected according to the actual situation, and the test data report can be automatically generated.
It can display 6 sets of test data at the same time, which is convenient for data comparison.
Judging the damaged parts of the electrically controlled common rail injector by itself according to the information of fuel quantity at various working points and interface prompts, more convenient for your injector maintenance.
And machine's computer stores more than 3000 kinds of standard data of electronically controlled common rail injectors, most of the injectors on the market can be tested. If there is a new injector model in the future, you can also contact us to add new data for you.
Using a professional test bench is the best way to test common rail injector, it would give you accurate testing result and guide your repair work very well. Crystal test bench has simple structure, easy maintenance, convenient operation and high reliability, leveraging on our modern manufacturing unit and stringent quality control, our products have been sold all over the world.
Please believe Crystal is your best choice.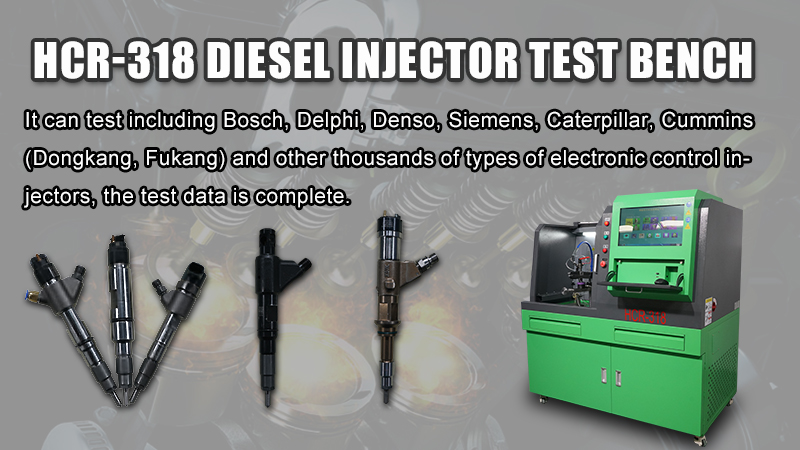 Keywords: common rail test bench
Originally published 06 Aug 2021, updated 06 Aug 2021.