What is the latest test bench in the market
29 Jun 2023
EPS205-PRO is a small size, compact structure, beautiful appearance, accurate and stable high-pressure common rail test bench specially designed according to market feedback and market demand.
This equipment is equipped with a brand-new, self-developed, high-stability multifunctional high-pressure common rail injectors test system and a high-stability control board. The EPS205-PRO high-pressure common rail injector test bench is based on the working conditions of the diesel engine ECU, and drives the high-pressure common rail injectors of Bosch, Denso, Delphi, Siemens, Cummins and other brands according to the driving mode required by the engine to realize high-pressure common rail Accurate testing of fuel injectors. The test system comes with more than 7,000 sets of high-pressure common rail injector test data. The control system is designed with individual user-defined modes, automatic test modes, and compensation code generation modes. Judgment and maintenance of the working status of the oiler. The system supports real-time online upgrade service, supports remote assistance and remote service, and accurately and quickly solves the worries of users.
This machine has the following functions:
1. Automatically test the precise oil quantity of high-pressure common rail injector in each working condition.
2. Automatically generate high-pressure common rail injector fuel injection compensation correction codes (QR, IMA, C3i, etc.).
3. Test the piezoelectric crystal injector.
4. Detect the resistance and inductance of the solenoid valve of the high pressure common rail injector.
5. Injection response time test of high pressure common rail injector.
6. One-button high-pressure cleaning function of high-pressure common rail injector.
7. Intelligent online upgrade and remote assistance.
In addition, the machine is equipped with a new high-pressure common rail injector installation fixture, which is suitable for clamping various types of electronically controlled common rail injectors. It is equipped with a DRV high-pressure pressure regulating valve oil return two-stage forced cooling system and a test fuel heating function and fuel tank liquid level alarm function.
The bottom of the machine is designed with high-strength universal Fuma wheel, which makes the equipment easy to move without affecting the stability of the test, making the whole equipment more flexible.
Taian Crystal is a professional manufacturer of injector and pump test bench, which can provide a variety of different models and types of test benches to meet your different needs. If you are interested, please do not hesitate to contact us.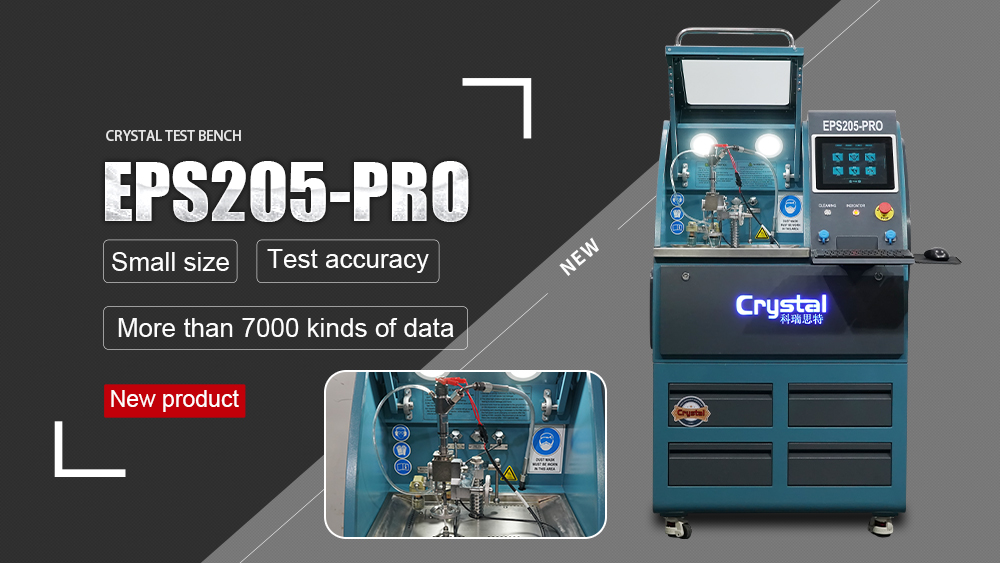 Keywords: common rail test bench
Originally published 29 Jun 2023, updated 29 Jun 2023.