What is the best common rail test bench
09 Aug 2022
If you are looking for a powerful common rail test bench supplier, you must check whether the company has self-developed products with independent intellectual property rights, and whether it can update and design new equipment.
Crystal common rail test bench CR818-PRO is a new designed upgraded equipment which is very convenient to tested and overhauled for electronically controlled high-pressure common rail injectors (including piezoelectric high-pressure common rail injectors), high-voltage electronically controlled common rail pumps, electronically controlled unit pumps, electronically controlled pump nozzles, and PT pumps (optional), PT injector (optional), Cummins X15 Q60 injector (optional), Cummins timing and metering actuator (optional), etc. On the basis of the traditional test bench, a number of configurations have been upgraded (upgrading the industrial computer to a high-performance industrial integrated computer, low-pressure oil circuit system, low-pressure oil circuit filtration system, optimized operating system, common rail injector installation fixture, increased engine power adjustment function etc.), the overall rigidity of the bench is good, the test is stable and accurate, the appearance design is beautiful and generous, and each functional area is modularized and humanized.
"Hello, I'm Ken from Laos, I would like to know the price and more information of your CR818-PRO". Today I received an inquiry from a customer for a new test bench. I understand that the client needs to test common rail injectors and pumps, EUI EUP. After he received my quotation of the common rail test bench CR818-PRO. He said"Your price is higher than other companies, what's the difference?" Then he showed me the pictures of other test bench which is traditional and simple than our CR818-PRO. So I description him the different between the two models. first, The operation room of the CR818-PRO is spacious, moderate height, the position and size of the observation window design is reasonable, can fully observe the test process. Second, the CR818-PRO equipped with one-key cleaning function. The switch from cleaning into testing only needs to press the cleaning function button, which is simple and efficient. Third, the CR818-PRO can test multiple injectors at the same time, 2-6 available.Fourth, it upgraded overall metal structure with increased plate thickness and enhanced rigidity.The transverse span of the equipment increases, and the center of gravity is more stable, with better seismic resistance.No vibrate problems when testing high torque common rail pumps, EUI, EUP.
Mr.Ken is very satisfied with the test bench CR818-PRO and pay the deposit to us immediately. Please feel free to email us if you are interested in Crystal test bench.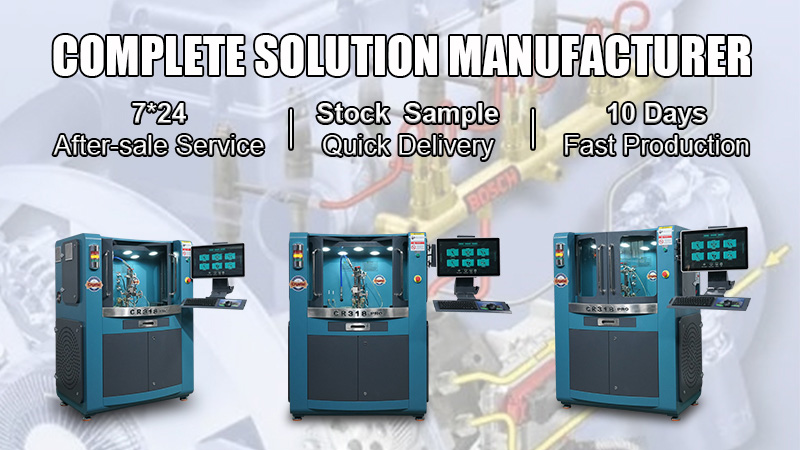 Keywords: common rail test bench
Originally published 09 Aug 2022, updated 09 Aug 2022.