The new common rail test bench in 2021
07 Sep 2021
What's the newest common rail test bench?
Before answering this question, let us have a simple understanding of the test bench. The role of diesel fuel common rail test bench and the necessity and manufacturing: After the production of all systems is completed, the test bench simulation function test needs to be carried out according to the working conditions of the equipped engine. And reliable performance test, only after the various indicators meet the standards can it be installed in the engine, which is required by manufacturers of fuel system. In the maintenance market, a diesel test bench is also needed to simulate the working conditions of each key component of the fuel system on the engine.
The following are our new machine model.
CR318-PRO high pressure common rail electronic control injector test bench: adopts a fully automatic control system, which can quickly test the common rail injectors (including piezoelectric common rail injectors). It can test thousands of electronic control common rail injectors, the test data is complete.
GT-6000 governor test bench is a kind of governor special test equipment for convenient testing of governor and precise correction of governor parameters on the basis that the governor is far away from the prime mover such as the engine or turbine. . The test bench is suitable for repairing, testing and parameter setting of marine diesel engine governor and road diesel engine governor.GT-6000 governor test bench can use hardware closed-loop simulation to realize governor feedback debugging function, and provides a convenient tool for repeated inspection, debugging, and setting before the governor is installed to restore the normal state of the governor Or factory state. The test bench system based on the software and hardware design of the governor test application can not only use the powerful analog instrument function to realize data measurement, calculation and display, but also use the data parameter curve graph to more intuitively judge the performance of the governor Good or bad.
The equipment DSD-15/22/30 is a special equipment for DPF, SCR, DOC high temperature regeneration which is independently developed and produced by our company. At the same time, the high temperature regeneration has no effect on the overall design performance of the DPF. The equipment has a wide range of applications and is easy to use and operate, and is suitable for the regeneration of various types of DPF devices.
The above are our new equipment, besides these, we also can provide different type test bench.
If you have any interest about any model of the common rail test bench, please contract us at any time. We will have the professional team to contact you.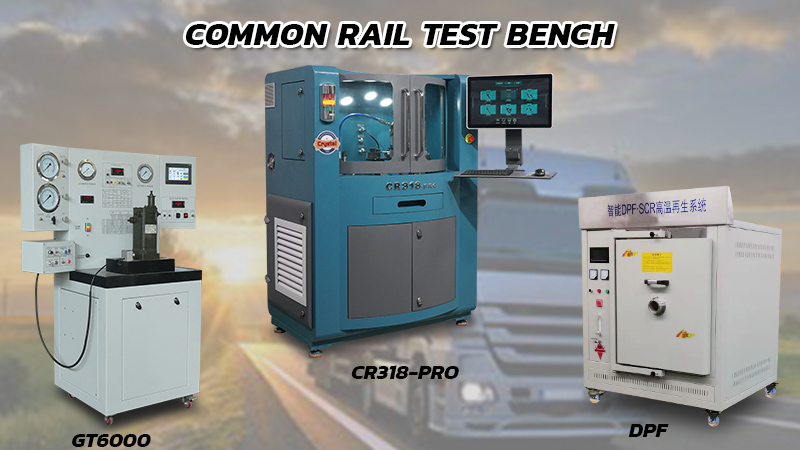 Keywords: common rail test bench
Originally published 07 Sep 2021, updated 07 Sep 2021.