A governor test bench except common rail test bench
05 Oct 2021
With the continuous development of environmental protection, energy saving and consumption reduction concepts. The common rail test bench has been continuously improved and innovated. Most repair shops will have common rail injectors and fuel injection pump testing equipment. Does the debugger need to be tested and repaired? Yes, it is very necessary. As a repair shop, do you also need such a governor test bench?
In September, Mr. Karnig from Australia wanted to start the inspection and maintenance business of diesel fuel injectors, but he said there are more customers need to test speed governor and finally found our company. "I need to test various speed governor such as WOODWARD: UG-8, UG-32, UG-40, 3161, PG (with standard base and drive shaft), PG-EG, EGB 200, 300, PG200\300\500, PGA, SG, PSG, EGB-2 , EGB-58, LSG-10, PG-PH, EG-3, EG-10, TG-13 type speed governor, can you provide me with a machine that meets my requirements?" A customer from Brazil asked. Of course there is no problem, GT6000 GT6000 can meet your requirements" "Perfect, what are advantages? "
Governor test bench is a kind of governor special test equipment for convenient testing of governor and precise correction of governor parameters on the basis that the governor is far away from the prime mover such as the engine or turbine. The test bench is suitable for repairing, testing and parameter setting of marine diesel engine governor and road diesel engine governor. governor test bench can use hardware closed-loop simulation to realize governor feedback debugging function, and provides a convenient tool for repeated inspection, debugging, and setting before the governor is installed to restore the normal state of the governor Or factory state. The test bench system based on the software and hardware design of the governor test application can not only use the powerful analog instrument function to realize data measurement, calculation and display, but also use the data parameter curve graph to more intuitively judge the performance of the governor good or bad.
Test the inside fuel suppl pressure of the governor, the emergency brake function when the governor in high and low speed, test safety parking function when governor controlled by air or electricity.
Crystal is a comprehensive enterprise specializing in R&D, production, sales and service of internal combustion engine testing equipment. If you have any interest in GT6000 or other common rail test bench, please contract us. We will contact you immediately and offer the suitable test bench and best price to you.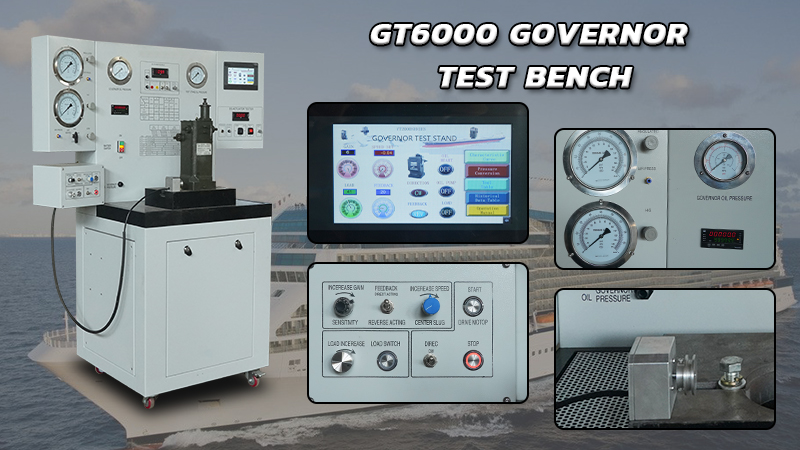 Keywords: common rail test bench
Originally published 05 Oct 2021, updated 05 Oct 2021.