Something about crystal common rail test bench cr-318pro
31 Aug 2021
Are you looking for a new age common rail test bench? Do you want to test and repair common rail injectors? Is your test bench doesn't enough test plans? There are many diesel test bench brands, so you can't decide which one do you need? Is it expensive or has not enough for you.
As a professional manufacturer, we always adhere to the principle of product quality first and continue to innovate. CR318-PRO will be successfully launched in 2021. CR318-PRO test bench is the new design product with Small size and complete test function, high test accuracy, is the good machine for you to do electrical injector diagnostic. CR318-PRO high pressure common rail electronic control injector test bench: adopts a fully automatic control system, which can quickly test the common rail injectors (including piezoelectric common rail injectors). It can test thousands of electronic control common rail injectors, the test data is complete.
CR318-PRO adopts a new design concept, creative modular design, upgraded pipeline and circuit, newly design of the appearance and a new generation of control system, which was a qualitative leap to the traditional common rail injector test bench.
What is advantages of common rail test bench CR318-PRO?
1. High-precision fuel volume measurement system: high-precision gear flow meter.
2. Ergonomically designed machine body, human-machine-friendly , more comfortable and faster to use.
3. User friendly designed multi-touch industrial all-in-one interface, which can be rotated in multiple directions, is easy to operate, and has strong adaptability; built-in standard data of more than three thousand injectors.
4. Independent research and development of a new generation test control system, with more advanced hardware support, remote service & upgrade, support WIFI.
5. Automatic test fuel temperature control system: heater and forced circulation air cooling system, more sensitive and safer.
6. Upgrade the injector fixture with high-end customized connection special wiring harness and special oil supply and return joints, etc.
7. Accurate rail pressure acquisition and control system: Bosch rail pressure sensor and Bosch common rail pipe, Bosch high pressure proportional control valve.
8. The protective door adopts reinforced toughened protective glass, which has a larger viewing angle and is convenient for observation.
9. The low-pressure oil supply pipeline, circulation pipeline, and measurement pipeline are all made of industrial pressure-resistant 304 stainless steel seamless pipes, which are durable.
10. The test fuel tank and waste fuel tank are all made of 304 industrial stainless steel, and are equipped with a dedicated observation window, which is convenient and user-friendly.
We are the manufacturers and exporters of diesel fuel injection products for many years and have an expertise in this field, our products are highly reliable and dependable. We believe in offering excellent products & service to our customers. We mainly manufacture all kinds of diesel fuel injection pump test benches including common rail test benches, so if you may have any inquiry regarding the same as well, please feel free to contact us.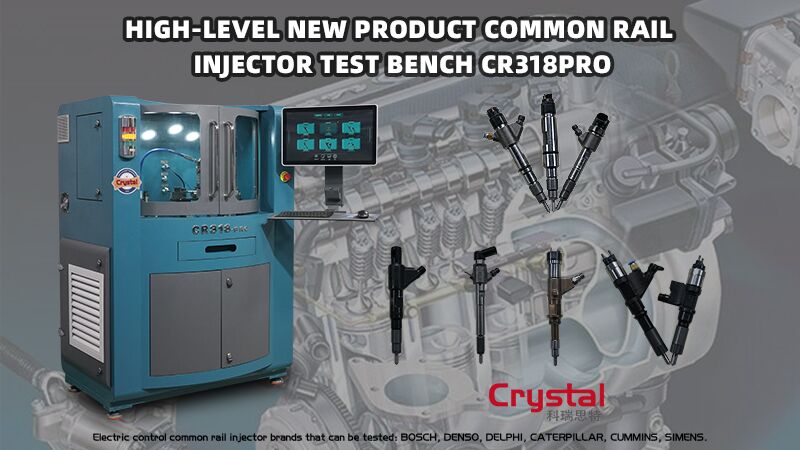 Keywords: common rail test bench
Originally published 31 Aug 2021, updated 31 Aug 2021.