Innovation of common rail test bench
23 Nov 2021
"I especially like the big screen on CR318-PRO" said a customer from Guatemala. He wanted to purchase a common rail test bench for testing fuel injectors, and then I recommended our newly developed product HCR-318pro. He saw that our equipment was different from other suppliers, and the price was higher, and then he asked us the difference in this product. I told him that this is our latest new product, which is a professional version of the common rail injector test bench. Its functions are more powerful, and the quality of the parts used in the product is better, because we want to manufacture better quality products in a homogeneous competition, instead of participating in low-price competition. The customer was very satisfied with our point of view, and finally bought this equipment.
The innovation of common rail test bench products is currently an important work item of Crystal Company. The purpose is to improve product performance, function and user convenience, as well as improve product quality and lifespan.
Take CR318-PRO as an example. It has all the functions of a common rail injector test bench, and can test electronically controlled common rail injector brands: BOSCH, DENSO, DELPHI, CATERPILLAR, CUMMINS, SIMENS, and can automatically generate sprays. Correction code for the oil volume of the oiler. In addition to the above basic functions, it is also equipped with a one-button flushing function of the injector, which is convenient, efficient, and simplifies the test process. CR318-PRO adopts high-precision gear flowmeter. Ergonomically designed body, human-machine friendly, more comfortable and faster to use. Human-machine friendly design of multi-touch industrial integrated machine interface, which can be rotated in multiple directions, and is easy to operate and has strong adaptability. It was built-in standard data of more than 3,000 kinds of injectors in independent research and development of a new generation of test control system, with more advanced hardware support and remote service. The machine adopts test oil automatic temperature control system. Heater and the forced circulation air cooling system is more sensitive and safer. Upgrade the injector fixture with high-end customized special wiring harness and special oil supply and return connectors, The protective door adopts reinforced tempered protective glass, which has a larger viewing angle and is convenient for observation. Low pressure supply oil pipelines, circulation pipelines, and measurement pipelines are all made of industrial pressure-resistant 304 stainless steel seamless pipes, which are durable. Test oil tanks and waste oil tanks are all made of 304 industrial stainless steel, and are equipped with special maintenance observation windows, which are convenient and user-friendly.
The above are the detailed details of the completed CR318-PRO products. In the near future, we will develop new professional versions of CR708-PRO, CR918-PRO and other professional versions of common rail test bench products, and we are also looking for agents from various countries. Or distributors to establish a win-win partnership.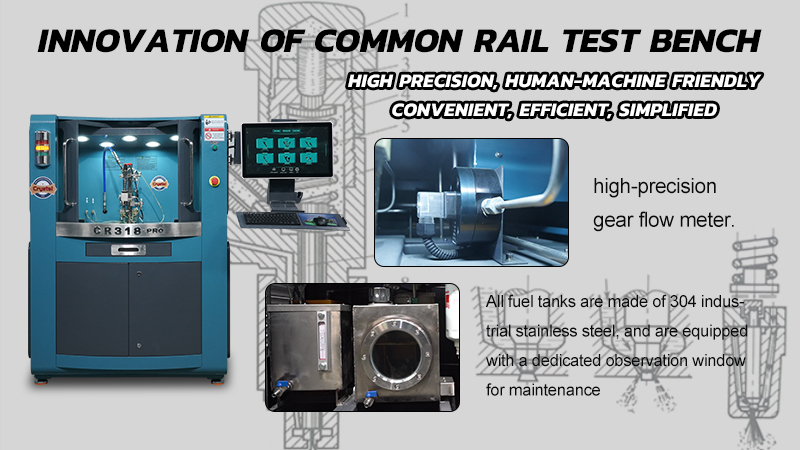 Keywords: common rail test bench
Originally published 23 Nov 2021, updated 23 Nov 2021.