How about a multifunctional common rail test bench
11 Oct 2022
With the development of the market, people have more and more demands on test benches, and their requirements are getting higher and higher. People always want to test many types of common rail injectors and pumps on one test bench, and also want to test multiple injectors at the same time to save time and increase efficiency. Market demand is the driving force of CRYSTAL. In order to meet customer requirements, Crystal researched and developed common rail test bench model CR818-PRO. This model is a new generation of upgraded products with independent intellectual property rights developed by our company.
Industrial all-in-one controller is installed on machine, and it stores more than 7000 standard data. The controller can support remote control, engineer can connect controller directly when you have any needing. Operating system and hardware support can automatically generate fuel quantity correction codes for electronically controlled common rail injectors: QR, IQA, IMA, ISA, c2i, c3i.
CR818PRO can support 6 pieces high pressure common rail injectors at the same time. But some customers said "I don't need to test 6 pieces injectors, only 2 or 4 pieces". Crystal engineer also consider this point when design this machine, so 2 or 4 piece injectors are tested at the same time, it is optional. Another professional design is upgraded universal injector fixture, it is more convenient to load and unload injectors. More important, it will hurt injectors.
Variety of test function can meet your different needing. Brands of common rail injectors that can test includes BOSCH, DENSO DELPHI, BYC, LONG BENG, CATERPILLAR, CHONGYOU, SIEMENS, CUMMINS, LORANGE, XINFEN-G, etc. Testable high pressure common rail pump brands: BOSCH, DENSO DELPHI, CATERPILLAR, CUMMINS, SIMENS, XINFENG etc.. CR818PRO also can test EUl and EUP produced by Caterpillar, Delphi, Cummins, etc 4.Adding an upgraded cam box can add test PT injectors and PT pumps, Cummins X15 Q60 injectors, timing and metering actuators and other kits.
One-key cleaning/automatic temperature control system on the machine is higher efficiency. The common rail injector test is equipped with a one-key cleaning function. The conversion from cleaning to testing only needs to press the cleaning function button, which is simple and efficient. Test oil automatic temperature control system: circulating pump group and industrial radiator air cooling system, industrial grade heater heating system.
Measuring system and operating room space design are more convenient for operator. High-precision oil measurement system,high-precision gear flowmeter flow measurement pipeline (main pipeline is made of 304 stainless steel pipe). The operation room is spacious, moderate height, the position and size of the observation window design is reasonable, can fully observe the test process.
Welcome to contact Taian Crystal Machinery if you also want one multifunctional common rail test bench.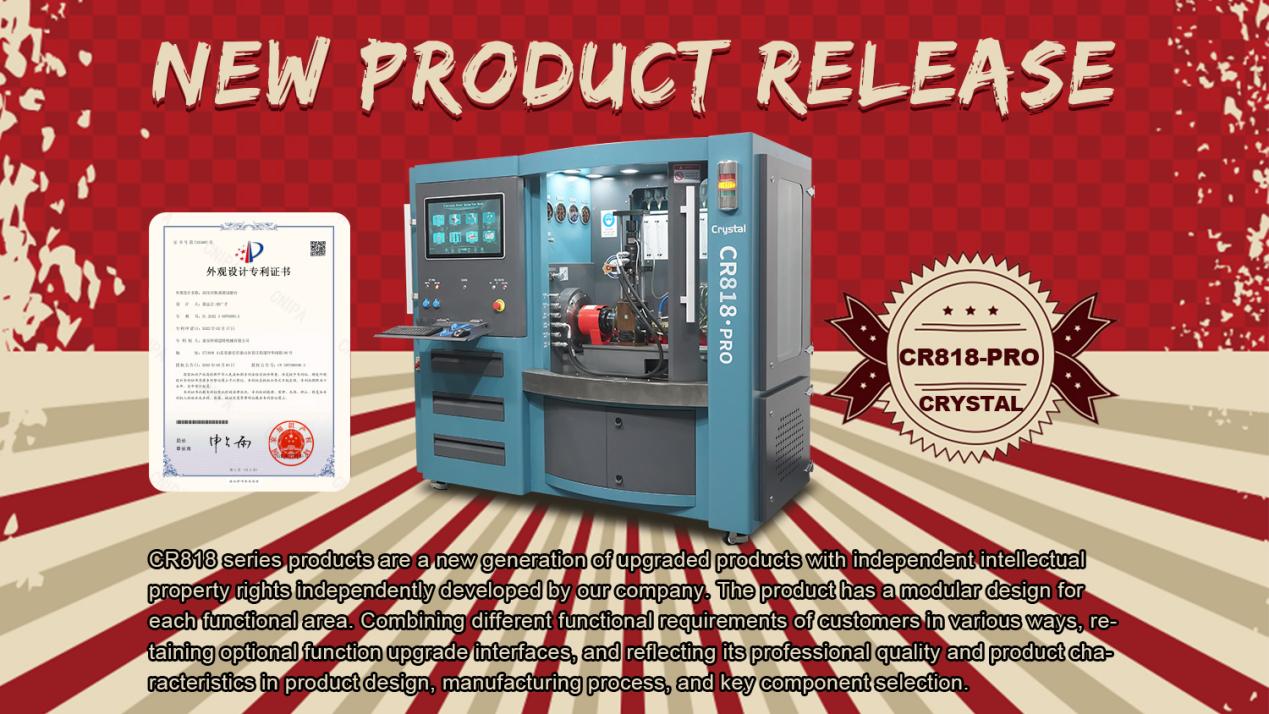 Keywords: common rail test bench
Originally published 11 Oct 2022, updated 11 Oct 2022.