Do you like the small common rail test bench eps205
15 Sep 2021
When you decide to buy an injector inspection test bench from abroad or from China, you may have to consider several important cost factors, such as the price of equipment, the cost of transportation, and the cost of various taxes and fees. Because of the impact of the epidemic in 2021, the increase in ocean freight has really caused headaches for participants in international trade. If your funds are limited, then I recommend your small common rail injector test bench EPS205.
In August, Mr. Paul from Chile wanted to start the inspection and maintenance business of diesel fuel injectors, but suffered from the high cost of purchasing the equipment, and finally found our company. After understanding his needs, we introduced EPS205 for him in detail, and sent him the working video of this machine. He thought that EPS205 could fully meet his requirements. He also asked in detail whether there are any detailed instructions on how to use this equipment, and how about training? I told him that we recorded a detailed operation video, and he can learn by himself based on the video, which is very simple.
EPS205 is a small fuel injector common rail test bench. It has the advantages of small size, relatively cheap price, and can save transportation costs and various taxes and fees. Is its function restricted? The answer is that there are no restrictions. EPS205 is designed to drive high pressure common rail injectors such as CATERPILLAR, BOSCH, DENSO, DELPHI, SIEMENS and other high pressure common rail fuel pumps (CP1, CP2, CP3, HP3, HP4, DELPHI, etc.) to achieve precise testing of common rail injectors. More than 3,500 sets of data are stored inside. And the system supports real-time online upgrade services, remote assistance and remote services, and accurately and quickly resolve the worries of users.
The configuration of EPS205 is also popular with users. It uses high-precision gear flowmeter, 10.4-inch industrial integrated control computer, equipped with self-developed electronic common rail injector control system, remote control service, free upgrade, WIFI connection and other functions. The fixture for the injector is suitable for clamping various types of electronically controlled common rail injectors, connecting special wiring harnesses and special connectors for fuel supply and return connections of the fuel injector.
No matter what product or equipment is purchased, there is no best product, only the most suitable product. We look forward to your continued attention to our test bench.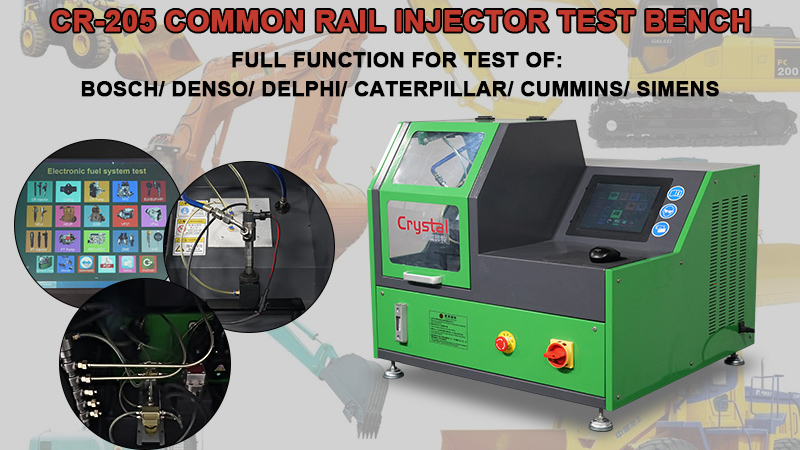 Keywords: common rail test bench
Originally published 15 Sep 2021, updated 15 Sep 2021.