Crystal test bench meets your different needs
03 Feb 2023
Product update is inevitable for an enterprise to survive. It is CRYSTAL's consistent aim to continuously optimize products and update them so that customers can have a better experience. Taian Crystal machinery provides comprehensive professional diagnosis and maintenance solutions for modern and traditional diesel systems. Common rail test bench models and functions are constantly updated, such as model CR318PRO, CR318, CR318C,CR518PRO, CR818PRO, CR918PRO,etc.
CR918PRO as a multi-function test bench, independent research and development of electronically control system, with with remote control service, free upgrade, WIFI remote control, support different language. The oil circuit (fuel and engine oil) can be pulled out of the equipment for easy maintenance and inspection.
What can CR918PRO injector test? It can test the brands of electronically controlled high pressure common rail injectors: BOSCH, DENSO, DELPHI, CATERPILLAR, CUMMINS, SIMENS, L'ORANGE, Fresh Air, Dragon Pump, etc. And CAT HEUI and HUEP also can be tested on this test bench.
What can CR918PRO pump test? It can test brands of high pressure common rail pumps: BOSCH, DENSO, DELPHI, CATERPILLAR, CUMMINS, SIMENS, Fresh Air, etc.
What are the advantages of CR918-PRO? The new multi-function operating system and hardware support can accurately and automatically test the high-pressure tightness, full-load fuel injection volume, fuel return volume, fuel injection volume at the discharge point, idle fuel injection volume, and pre-injection volume, pre-injection oil return, etc. Operating system and hardware support automatic generation of fuel quantity correction codes for electronically controlled common rail injectors: QR, IQA, IMA, ISA, c2i, c3i, (VD0) ICC.
It can accurately detect the high-pressure oil supply capacity of the high-pressure electronically controlled common rail pump, the pressure regulation characteristics of the low-pressure oil inlet metering valve and the PCV high-pressure proportional valve, and the oil suction capacity and oil supply pressure test of the high-pressure common rail pump with its own oil transfer pump, etc.
The oil quantity detection of each load is carried out on the electronically controlled pump nozzle (EUI) and the electronically controlled unit pump (EUP), which can quickly and accurately judge the damaged parts of the electronically controlled pump nozzle and the electronically controlled unit pump.
CR918PRO configure the one-key cleaning function of the injector test: through this key, the high-pressure flushing of the injector can be realized without changing the fuel inlet, which is convenient and fast.
If you have any other questions or needing for common rail test bench, please contact us at any time.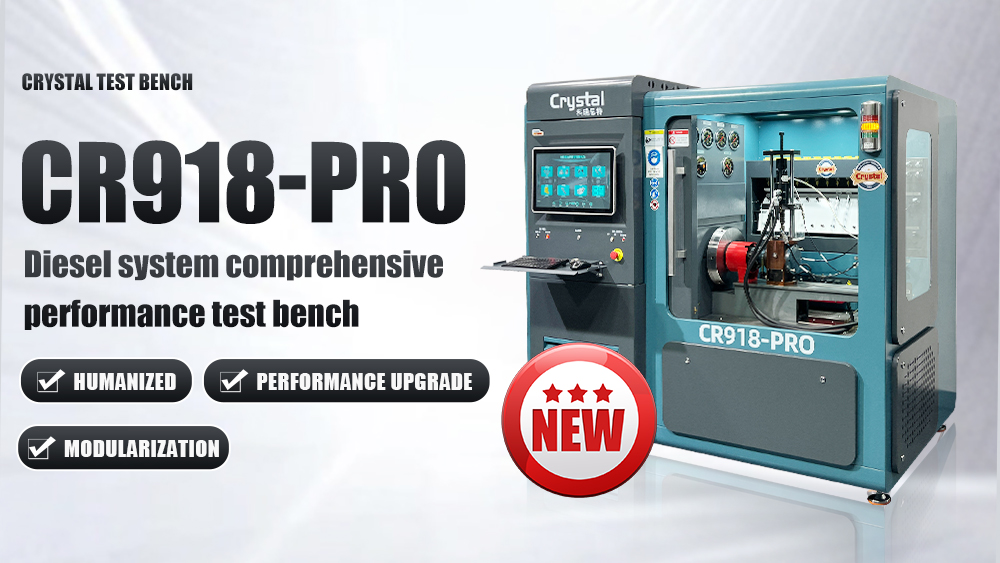 Keywords: common rail test bench
Originally published 03 Feb 2023, updated 03 Feb 2023.