Crystal common rail test bench is your best choice
12 Jan 2022
Crystal leading products there are high-pressure common rail test bench, diesel injection pump test bench, common rail diesel injector test bench and so on.
Our common rail test bench machines are exported to more than one hundred countries. We have already exported our common rail test bench to France, Germany, Guatemala, Brazil and many other countries, because of our excellent machine quality, our competitive price, our professional technical support and perfect after-sales service, we are the first choice of many customers all over the world. Our customer in Guatemala had received the common rail test bench machine and now he using it very well. He plans to purchase another machine next month.
We have many models of test bench now are selling well, such as common rail test bench HCR918, HCR708, HCR518, CR318-PRO and so on. I will introduce you our new developed professional common rail test bench CR318-PRO in detail.
Crystal special new design common rail test bench CR318-Pro adopts a friendly multi-touch industrial all-in-one interface, with more than 3000 standard data syringes built in. Self-developed new generation test control system, with more advanced hardware support, remote service and upgrade, and support WIFI, that is a qualitative leap on the traditional common rail injector test bench. It can test common rail injectors such as BOSCH, DENSO, DELPHI, CATERPILLAR, CUMMINS, SIMENS. And CR318-PRO upgraded one-key clean the fuel injector function, convenient, efficient and simplifies the test process.
The protective door of CR318-PRO adopts reinforced toughened protective glass, which has a larger viewing angle and is convenient for observation. The low-pressure oil supply pipeline, circulation pipeline, and measurement pipeline are all made of industrial pressure-resistant 304 stainless steel seamless pipes, which are durable. The test fuel tank and waste fuel tank are all made of 304 industrial stainless steel, and are equipped with a dedicated observation window, which is convenient and user-friendly.
Only with best machine quality, best service, and professional technical support we can get the trust of customers and get more orders from our customers. Crystal common rail test bench equipment can help you to develop your business much and help you to get more profits, so when you need common rail test bench, please do not hesitate to contact Taian Crystal, we will provide you with the best machines and the best technical service, and we can achieve a win-win situation!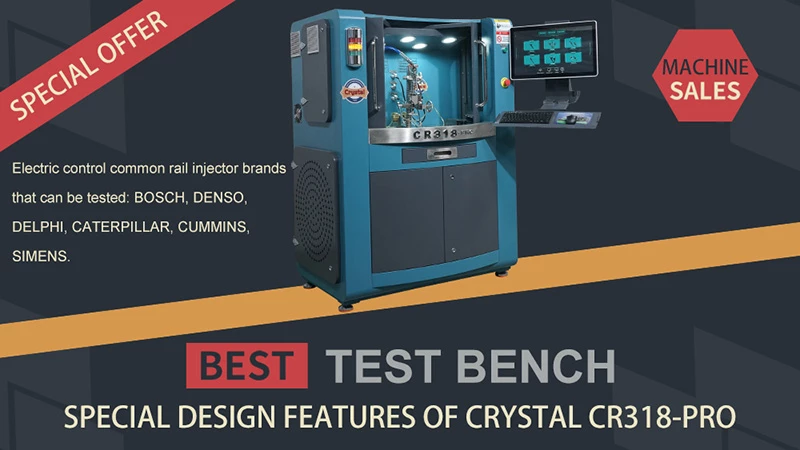 Keywords: common rail test bench
Originally published 12 Jan 2022, updated 12 Jan 2022.