Crystal common rail test bench is your best choice
06 Apr 2022
Price is what you pay, value is what you get. When you are looking for a common rail test bench, you may find that the products of many suppliers are similar, it is difficult to find their differences, and the prices are quite different, which will make you feel very confused. You may be wondering who is the best supplier? Which is the best test bench for injectors and and pumps?
What kind of supplier is the best? In my opinion, the first and most important is the quality of the machine. Good product quality is the foundation of an enterprise, followed by good after-sales service. Crystal common rail test bench is your best choice to test common rail injector, pump and EUI / EUP etc., We have been developing professional versions of traditional models to meet the needs of customers for high-quality products, rather than blindly pursuing the development of low-cost products. The latest CR318-PRO designed by our R&D team in 2021. From design to effect drawing, every detail has gone through the painstaking efforts of designers, carefully listened to customers' feedback from the perspective of use and operation, and finally presented it to everyone. Modular design runs through it, which is convenient for maintenance and later module upgrades. Each component drawing is a standardized design (each component has a corresponding drawing number for unique identification), which can be traced and inquired at the first time, effectively relieve customers' worries, Provide strong technical guarantee for product quality.The design of every detail is reasonable, and the product is fully guaranteed in terms of operation, appearance and the quality of each part. The sliding door adopts large-spacing stainless steel handles: good hand feeling, good appearance and convenient operation. Drawer handles: self-developed and designed stainless steel arc handle, reliable and beautiful to use, The one-key cleaning function is specially designed, which effectively improves the test efficiency of customers, eliminates the erroneous results caused by the confusion between testing and cleaning, and eliminates a lot of unnecessary trouble for customers. The brand-new operating system and operation interface have more powerful functions, more convenient operation and more stable operation.
For some new customers, it's easy to get confused when they see price differences for similar machines. What I want to say is that the real product is always the real product, because it has the company's design concept, the effort and dedication of the company's Research and Development team, and the real feedback from customers. We will continue to innovate in the future and use the best quality common rail test bench to give back to our customers.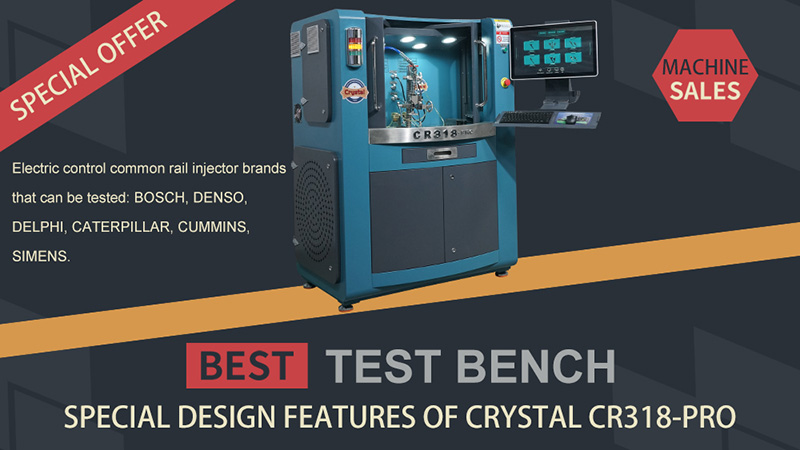 Keywords: common rail test bench
Originally published 06 Apr 2022, updated 06 Apr 2022.