Crystal common rail test bench create a new start
19 Nov 2022
The current market is mostly traditional common rail test benches, but our company has been constantly transforming into intelligent common rail test benches. We understand the importance of innovation and progress, so on the basis of the traditional test bench, a number of configurations have been upgraded (upgrading the industrial computer to a high-performance industrial integrated computer, low-pressure oil circuit system, low-pressure oil circuit filtration system, optimized operating system, common rail injector installation fixture, increased engine power adjustment function etc.), the overall rigidity of the bench is good, the test is stable and accurate, the appearance design is beautiful and generous, and each functional area is modularized and humanized.
Crystal recently launched an upgraded version of the CR918-PRO. CR918-PRO is a new test equipment. This equipment can be very convenient to tested and overhauled for electronically controlled high-pressure common rail injectors (including piezoelectric high-pressure common rail injectors), high-voltage electronically controlled common rail pumps, electronically controlled unit pumps, electronically controlled pump nozzles, and PT pumps (optional), PT injector (optional), Cummins X15 Q60 injector (optional), Cummins timing and metering actuator (optional), etc.
The CR918-Pro common rail test bench equipped professional touch screen version industrial all-in-one controller. High configuration, stable operation and fast speed. The industrial all-in-one machine is installed through the angle adjustment bracket, so that the screen can be adjusted at a certain angle to adapt to the viewing angle of different people and optimize the influence of ambient light. It also equipped with foldable (90°) keyboard and mouse stand. This stand is firm, reliable, easy to use and easy to transport when folded. Many customers maybe thought maintenance was a hassle, we fixed it. The entire oil module can be easily pulled out of the equipment for later maintenance and maintenance. The fuel high and low pressure fuel supply modules, fuel temperature control modules, etc. can be pulled out of the equipment, and the layout and pipeline design have been optimized, making the reliability and the convenience of later maintenance comprehensively improved. Equipped with a new universal injector mounting bracket, making the test injector more convenient, more stable and more reliable. Equipped with a 12-cylinder auto-turning oil collecting tank assembly, it can allow the equipment to test some traditional in-line pumps, VE pumps, VP37 pumps, VP44 pumps and other pump types that require graduated cylinder measurement, and can also increase the measuring function of the measuring cylinder for the measurement of the high pressure common rail injector. The operating room ceiling light adopts a shadowless lamp design, so that the light in the operating room has no dead angle, which is convenient for operation and observation. Equipped with fuel high pressure filter and oil high pressure filter, the filtration precision of fuel high pressure oil supply and oil high pressure oil supply can be effectively guaranteed.
Crystal common rail test bench has been serving you wholeheartedly, if you are interested in our machines, please contact us in time.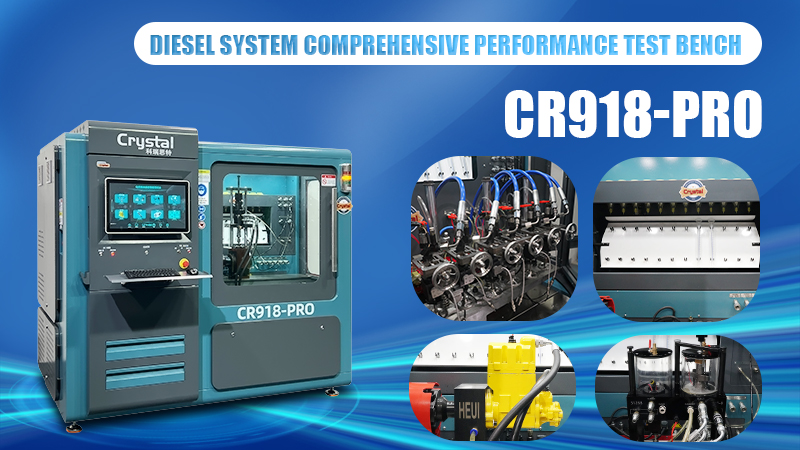 Keywords: common rail test bench
Originally published 19 Nov 2022, updated 19 Nov 2022.