CR818Pro New generation full functions diesel common rail test bench
14 Jun 2022
June 2022 is the beginning of a hot summer, and it is also a hot period for the release of new products of Crystal, because after long-term research and design, the test bench products of Crystal finally ushered in the New generation full functions diesel. The new product launch of common rail test bench CR818-Pro.
The new generation of common rail test bench CR318-Pro launched in August 2021 has received extensive attention and unanimous praise from customers, and has also become a popular product of our company. Although our company's competitors have imitated our products later , our design concept and product quality are always positioned in the quality of high-end products, low-price and low-quality competition is not promising.
In May, an old customer in Morocco asked us if we had a test bench that can measure 6 injectors at the same time, and we replied that we were developing a new test bench product that could meet his requirements. Now is the time to give this customer an answer. Let me briefly introduce the functions of this new product CR818-Pro.
The CR818-Pro computer host stores more than 7,000 standard data of electronically controlled common rail injectors and high-voltage electronically controlled common rail pumps. In addition to the normal functions, it is also equipped with 2-6 high-pressure common rail injectors for simultaneous measurement, X15, Q60, actuators, PT pumps, PT injectors, VE pumps, VP37, VP44 and other test functions. Meet customers' testing needs for different injectors and diesel pumps.
This model continues to use BOSCH rail pressure sensor, BOSCH common rail tube, and BOSCH high-pressure proportional control valve (DRV valve); the one-key cleaning function for injector test can be used to realize high-pressure injector without changing the oil inlet. Rinse, convenient and fast. It can be equipped with an industrial refrigeration unit to ensure the normal test temperature of the equipment. The main fuel tank is made of industrial 304 stainless steel to ensure the cleanliness of the test fuel.
The above introduces some important functions of CR818-Pro, and many other details have been upgraded. This product has been upgraded in almost every detail, which should be the standard defined by Pro.
In addition to the Pro version products that have been launched now, we also have other Pro version products on the way of research and development and design. Crystal's products will never follow the trend, and will be committed to the development and production of high-quality products. Please continue to pay attention us.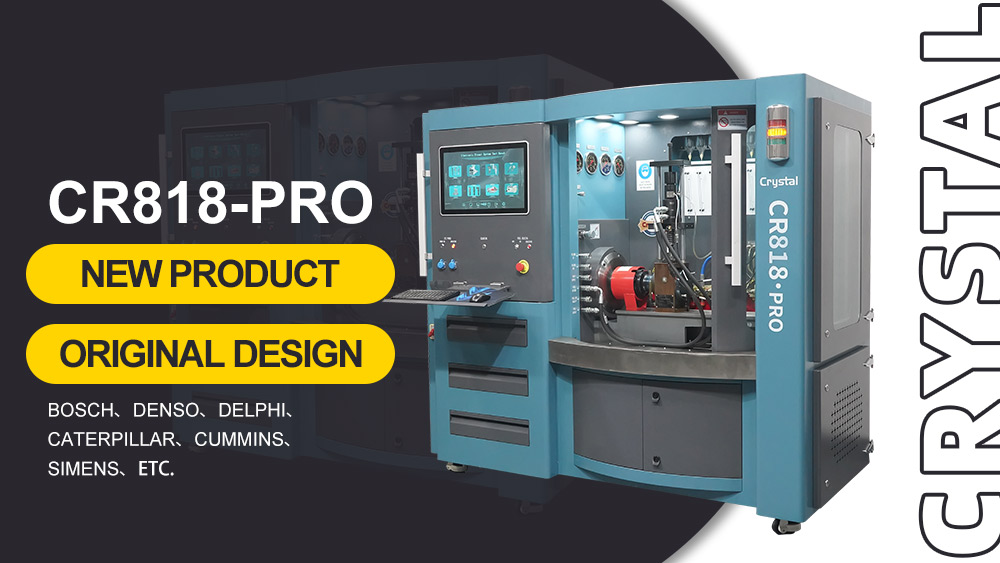 Keywords: common rail test bench
Originally published 14 Jun 2022, updated 14 Jun 2022.