Comparison of common rail test bench hcr918 and cr918-pro
16 Jan 2023
Both HCR918 and CR918-PRO are common rail test bench.independently developed and designed by us. Since the machine came out, we have received many customers' favor and inquiries, but many customers have hesitated for a long time and don't know how to choose the one that suits them. Machine, let me introduce the difference between them.
HCR918 is the first common rail test bench that appeared in the public eye. We have also received many customers' likes and feedback. With the joint efforts of Crystal R&D department, we independently developed and designed CR918-PRO. This time, combined with Based on the opinions of many new and old customers and the hard work of designers, the most intuitive change is the exquisite appearance, the most comprehensive and accurate functions, high-strength, shock-resistant body structure, modular design is more humanized, and the use time longer. At the same time, a comprehensive upgrade has been made in the configuration. The original refrigeration adopts circulating pumps and industrial fans to upgrade to industrial compressors for forced refrigeration. The industrial computer is upgraded from ordinary industrial industrial control to a high-end touch industrial all-in-one machine, the cam box EUS-H is upgraded to EUS-P, and a 12-cylinder automatic flip oil collection tank is added. The equipment can test some traditional in-line pumps, VE pumps, VP37 pumps, VP44 pumps, RED4 pumps and other pump types that require measuring cylinders, and can also increase the measurement of high-pressure common rail injectors. Graduated cylinder measurement function.The entire oil module can be easily pulled out from the equipment, which is convenient for later maintenance and maintenance. It is equipped with a new universal injector mounting bracket, which makes testing the injector more convenient, more stable and more reliable.Specially customized fuel hose, anti-aging, small bending radius, easy to use.
Both HCR918 and CR918-PRO can test high-voltage electronically controlled common rail injectors, high-voltage electronically controlled common rail pumps, electronically controlled unit pumps and electronically controlled pump nozzles, medium pressure actuated pumps, and medium pressure injectors. We have many optional configurations for customers to choose, which can meet the needs of different customers for common rail test bench.HCR918 is more economical, if you have sufficient budget, you can choose CR918-PRO first.
If you are expanding your business, Crystal test bench is a good first choice.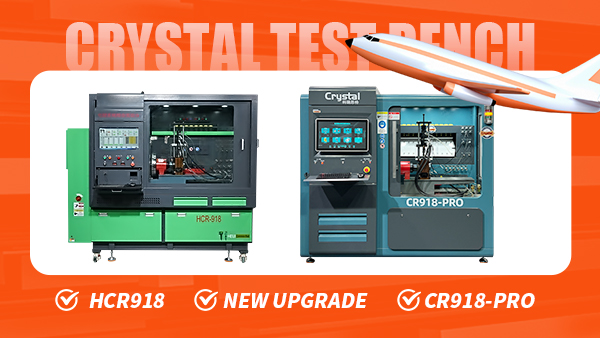 Keywords: common rail test bench
Originally published 16 Jan 2023, updated 16 Jan 2023.