Advantages of common rail test bench eps205-pro
17 Aug 2023
I am very pleased that the product series of CR-PRO common rail test bench has basically been upgraded. The full series of product test functions cover CRI, CRP, EUI, EUP, HEUI, HEUP and increase the testing of in-line pumps and mechanical pumps by adding independent oil tanks function to meet the needs and customization of different test functions of customers. At the same time, the quality of the product is greatly improved by improving the performance of the test system and selecting higher-level components.
EPS205-PRO wheel repair machine is upgraded on the basis of EPS205. EPS205 itself is an economical common rail injector test bench, because some users need a small test bench and their investment funds are limited. So EPS205 series is more suitable for them. Based on the traditional low-cost design machine, EPS205-Pro has been improved in many aspects in order to ensure product quality and improve product performance. Many customers will see that his price is slightly higher, but his quality is trustworthy.
It chose a high-configuration industrial all-in-one machine, coupled with self-developed test software, which made the test more convenient and faster. Equipped with a new high-pressure common rail injector installation fixture, suitable for clamping various types of electronically controlled common rail injectors. Equipped with DRV high-pressure pressure regulating valve oil return two-stage forced heat dissipation system to make heat dissipation more effective. The low-pressure oil supply system adopts a three-stage filter system with a filter accuracy of 3-5μ. Both the waste oil tank and the test fuel tank are made of industrial 304 stainless steel. The main measuring pipeline is connected by industrial 304 stainless steel pipe. Imported ultra-high pressure hose, high pressure test is more reliable. Equipped with a one-button cleaning function of the injector, manual switching is no longer required. Some upgrade functions are listed above, which shows that EPS205-PRO has upgraded many details, and its product quality is worthy of recognition.
Many customers ask why our equipment is more expensive than other home? In fact, as long as you are a professional who understands the test bench, you can tell the difference between the quality and the cost at a glance.
EPS205-PRO is a reduced test equipment for injector testing. It lacks a forced air cooling system and uses a CP1 test common rail pump. If you need more professional equipment, I can recommend you CR318-PRO.
There is no best equipment, only the most suitable equipment. The one that suits you is the best, and you can't go wrong with Crystal test bench.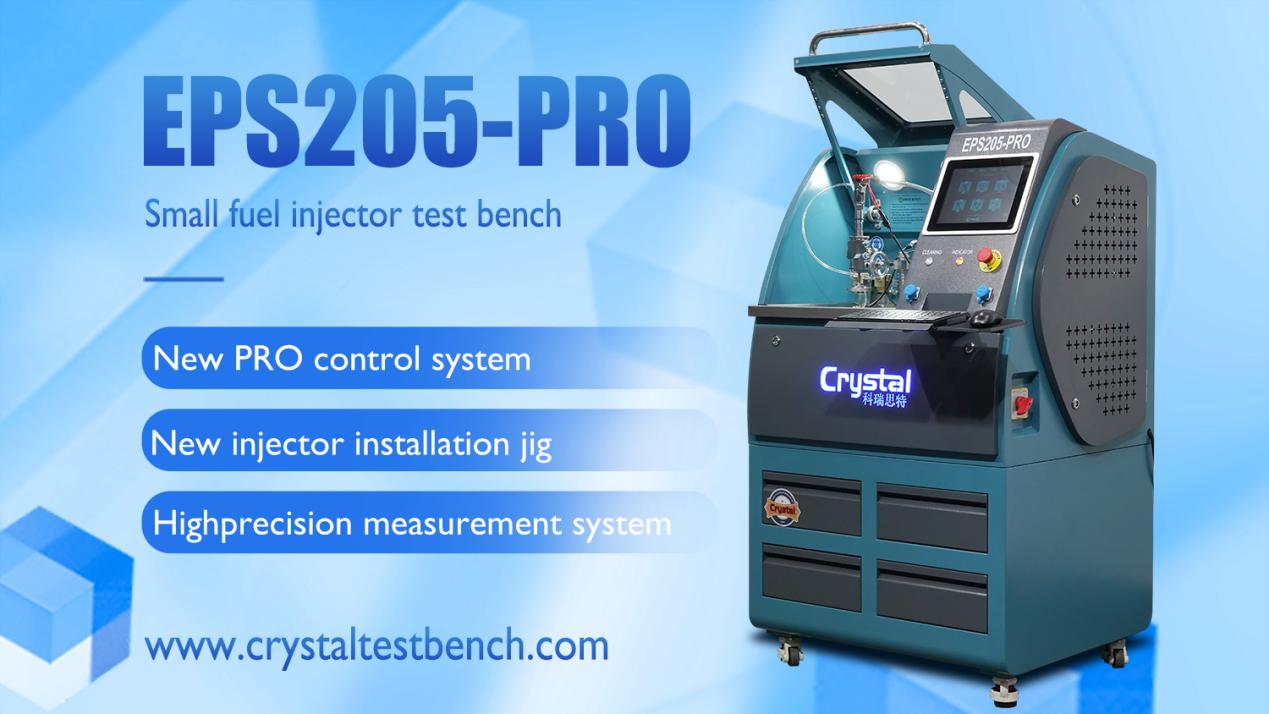 Keywords: wheel repair machine
Originally published 17 Aug 2023, updated 17 Aug 2023.