10th anniversary of crystal common rail test bench
03 Nov 2022
Ten years of time flicking our fingers, we have spent in the adjectives of contradiction, confusion, unknown, exploration, difficulty and hope in these ten years. After ten years of ups and downs, ten years of inheritance and leap, ten years of hand in hand to achieve today's flourishing of Tai'an Crystal Machinery Co., Ltd. Here, with a grateful heart, we share this happiness and glory with the old and new friends who have given our company love over the past ten years, colleagues who have worked hard for the company, and all partners! We would like to express our most sincere thanks to you all!
Tai'an Crystal Machinery Co., Ltd. is a professional comprehensive modern enterprise with many years of development, production, sales, import and export functions. The company has gathered a group of talents who have been working on fuel electrical controlled common rail test bench for decades, with the mission of leading China's high-quality products to the world. The products are exported to more than 100 countries and have been well received by customers. Our main products have CNC lathe equipment, pipe thread lathes, machining centers, diesel injector and pump pump test equipment and other equipment. Up to now, we have established sales and service offices in many countries. With the continuous increase, the company's overseas service capabilities are also enhanced. Our company adheres to the concept of customer first, and is willing to cooperate with friends from all over the world to achieve a win-win future.
In order to warmly celebrate the 10th anniversary of the establishment of Tai'an Crystal Machinery Co., Ltd., and thank new and old customers for their concern and support to Tai'an Crystal Machinery Co., Ltd., we decided to hold a grand promotional event from November 1st to 30th. For some common rail test bench models, promotion quantity is limited, so first come, first served. Time-limited benefits. If you are interested in our common rail test bench equipment, welcome to consult and purchase.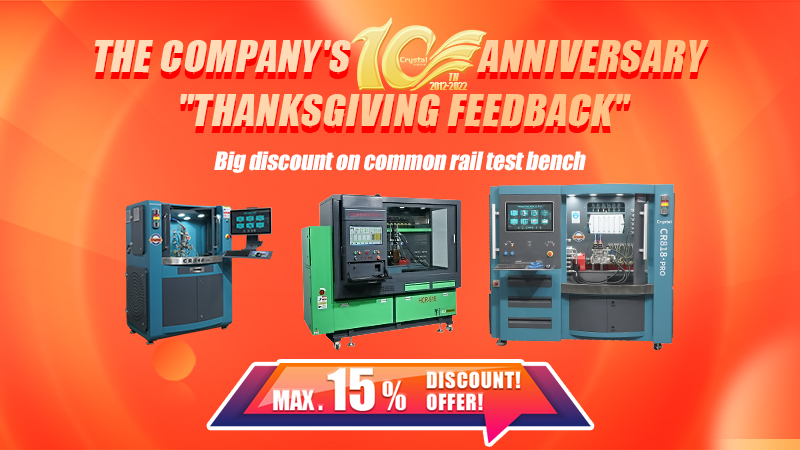 Keywords: common rail test bench
Originally published 03 Nov 2022, updated 03 Nov 2022.